To every small business owners and entrepreneurs, you want to register your business, but don't know how to do it?

Yup, that's how I felt when I first started OrenTalks. Rest assured, don't panic. I will teach you how to register your business or company with Suruhanjaya Syarikat Malaysia (SSM) via their online portal Ezbiz. The whole process is super simple and I will show you step-by-step on how to go about registering your very own business or company in Malaysia.


Why Register Your Business?
But before we go onto the real thing, let's understand the benefit of this:
The business will become a legally registered entity and it will boost your customer's confidence level
Only legally registered businesses will be eligible to apply for business bank account
With bank account, you can apply for Malaysia Payment Gateway, like eGHL, iPay88, and more. As you know, cards are not a norm in Malaysia, so enabling options of FPX and eWallets will definitely open up more sales opportunity ofr you
Only legally registered business will be eligible to apply for government grant or support scheme
How to register as an ezBiz Online user?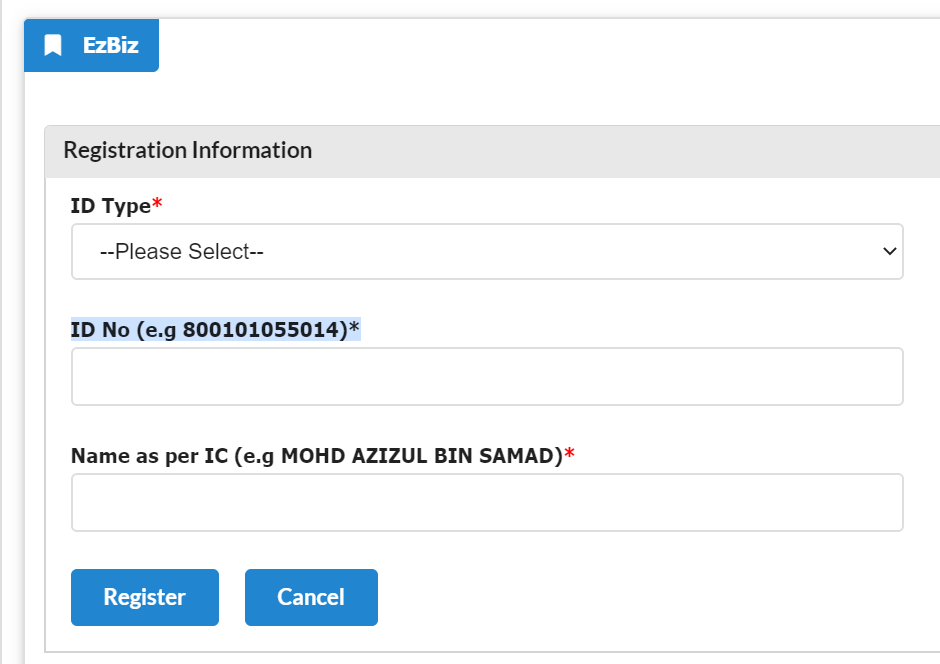 First, visit ezBiz Online Registration Page and register as an ezBiz Online user by clicking here.
Choose NRIC as the ID type, key in your IC number and fill in your Name as per IC and other required details as instructed.
Next, you must attend the nearby SSM counter to activate Ezbiz Online ID after completing registered as Online Ezbiz user.
New Business Registration
After account activation, you can easily register a New Business via the ezBiz Online Portal.
Once you've logged in, go to My Business Services > New Business Registration > New Business.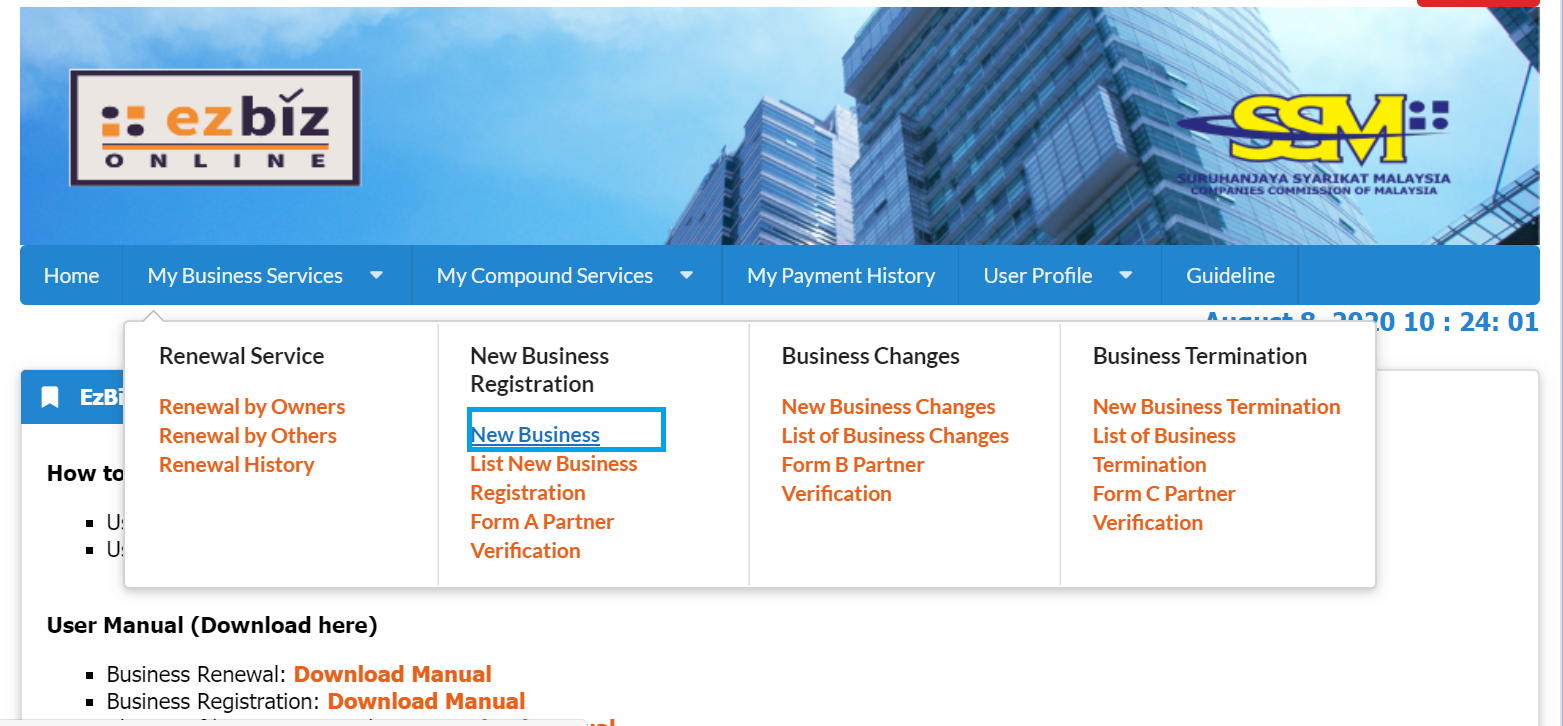 You will have to go through five sections on the website for a successful business registration.
The Main Information Section is where you fill in the details like Business Name, Business Start date, Registration period and Business address information. Here is a guide for Business Name Application. For Business names like Nurseries/Taska, Care Centre/Pusat Jagaan, Kindergarten/Tadika, Tuition Centre/Pusat Tuisyen, Enrichment Centre/Pusat Perkembangan, School/Sekolah, you must proceed to the nearest SSM counter.
Then, you will need to fill in the information regarding your company branches (if applicable) in the Branches Section.
Fill in the Business Code information in the Business Code Section. You can search for your business code in this link.
Fill in the owner's information in the Owners Section.
Last, make your payment and declare the information submitted in the Fees & Declaration Section.
Registration Fees
Sole proprietorship using personal name as stated on the identity card: RM30.00
Sole proprietorship or partnership using trade name: RM60.00
Registration of branches: RM5.00 for each branch
Business Information Print-out: RM10.00

How Long It Takes To Get Approval
Once you've logged in, go to My Business Services > List New Business Registration

Once you submitted the forms, it will be In Process.
If there's any question that the agent wants you to reply, it will go to Query.
User must reply/ answer the query through Ezbiz Portal within 30 days from the query date, or your application will be voided.
Next, within a week you shall see whether your application is approved under Approved/Reject section.
Download Important Business Documents (Certificate and Business Info)
You need these documents to apply for business bank account and online payment getaway.
ezBiz only allows you to download certificate and business info within 14 days after application is approved, please download it or you will have to purchase from SSM e-Info portal at https://www.ssm-einfo.my or MYDATA-SSM portal at https://www.mydata-ssm.com.my. Here's the breakdown of the cost which is more than RM10 you paid initially.
Once you reach this step, you are good to go work on your business more. All the best!
Please share this with your fellow entrepreneurial friends in order to support them. :)